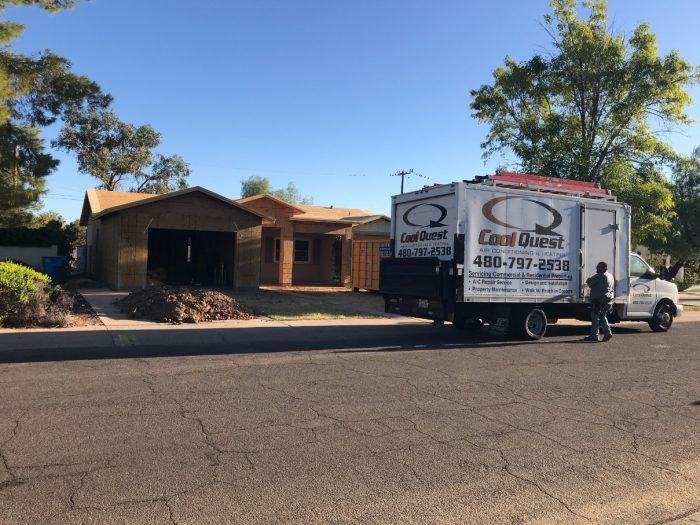 Cool Quest, LLC is dedicated to helping homeowners install, maintain and repair high-quality heating, ventilation and air conditioning (HVAC) systems. When you come to us for air conditioning installation and AC repairs in Mesa, AZ, you'll be met with a robust range of services designed to help you maintain dependable cooling in your home.
Here are just some of the residential AC repair services we provide:
HVAC Installations:
We're capable of installing new HVAC systems or replacing old HVAC systems at virtually any home in the greater Mesa area. Our qualified, knowledgeable technicians will help you identify an HVAC system that meets your specific needs and budget, so you're making a sound investment for the future.
AC Maintenance:
Preventative air conditioning repair services and maintenance in Mesa, AZ, is the secret to maintaining a well-functioning unit and perfect climate-controlled air in your home. We work with our clients to identify areas in need of maintenance and deliver service to extend the lifespan of your equipment.
Heating & AC Repairs:
If you're in need of residential air conditioner repair and heater repairs in Mesa, AZ, waste no time in calling us. We offer emergency air conditioner repairs for our residential clients; there's no need to suffer through the heat! We work hard to quickly identify the problem and its cause, setting everything right as quickly as we can to save you money and restore your comfort.
In addition, our residential AC repair services and heating repair services also extend to ductwork installation and tenant improvement remodeling services, depending on your needs. We strive to help each of our clients identify cooling solutions they can rely on for comfort each and every day.
We're proud to offer a range of residential cooling supplies from some of the nation's top brands, including American Standard, Day & Night, Climate Master, Carrier, York, Goodman, Trane, Ruud and more.
Improve Residential Cooling
There's no need to suffer through the summer sun. Cool Quest, LLC is here to help you keep your home cool and comfortable, while reducing your energy usage with our energy-saving tips. To learn more about our comprehensive range of residential air conditioner repair services or to take advantage of our in-home maintenance or AC repair options, contact us today at 480-797-2538.